As a Veeva Preferred Partner, Trueson thinks it is important for users to succeed in Veeva CRM Implementation. Therefore, our consultants would like to share with you some tips that will help you make the best out of your Veeva CRM systems.
What is CRM Implementation?
CRM implementation is the act of introducing or integrating CRM software into an organization's systems to facilitate effective communication with customers. This process can be initiated either from the beginning or by incorporating CRM into existing systems. A well-executed CRM implementation can result in a centralized management system and improved access to customer data.
CRM Implementation Process for Veeva Users
Veeva CRM Implementation involves a series of steps that need to be followed to ensure a successful implementation. Here are some key steps that can help you effectively implement Veeva CRM: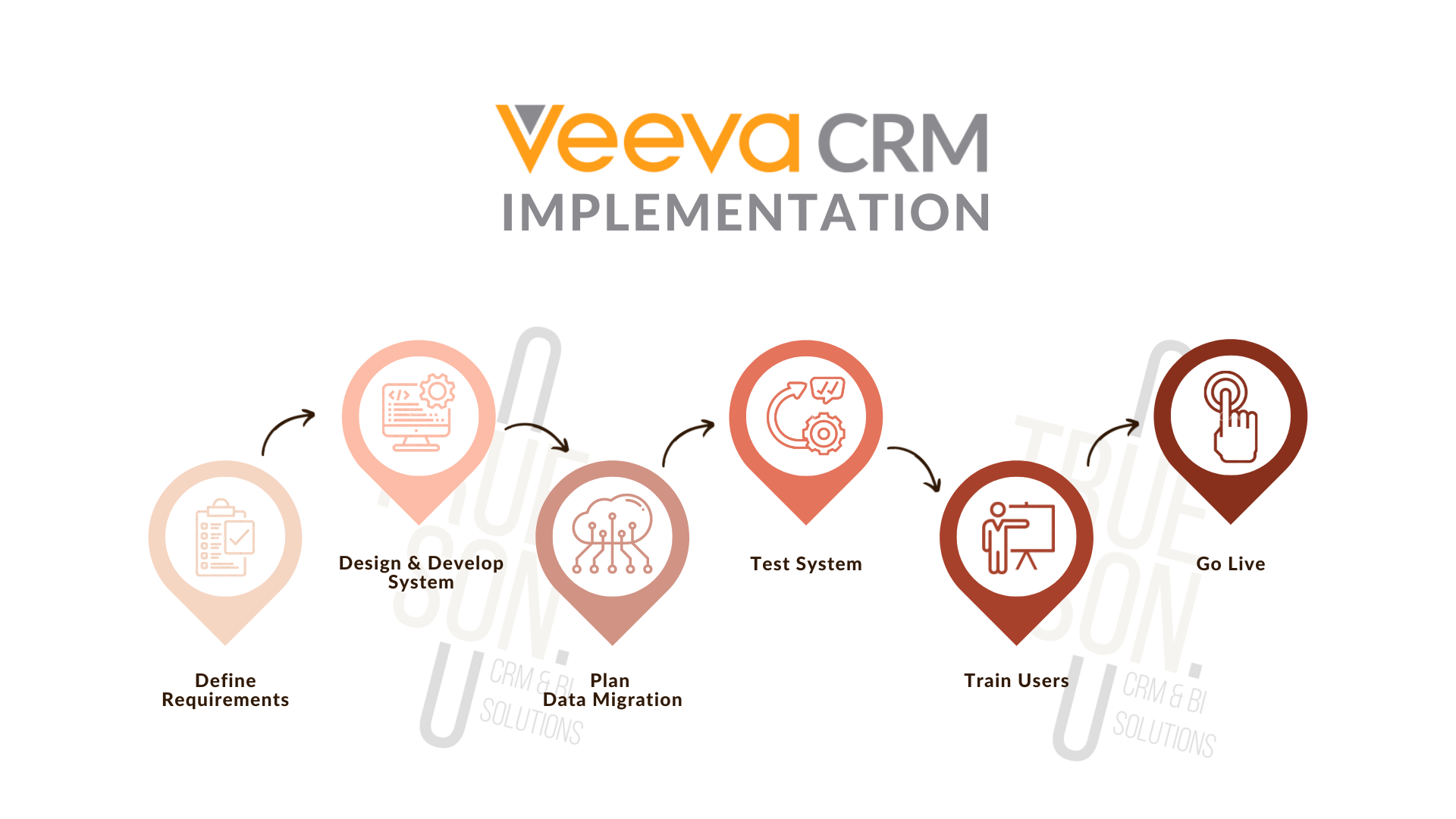 Define your requirements:
Before you start implementing Veeva CRM, it's essential to identify your organization's requirements. You should analyze your sales processes, customer data, and reporting needs to determine the features and functionality that are most important for your business.
Design & develop your system:
Once you have identified your requirements, you can design your Veeva CRM system. This involves setting up custom objects, fields, and workflows to match your business processes. Moreover, you can customize the user interface to create a tailored experience for your sales reps.
Plan your data migration :
Migrating your data from your current CRM system into Veeva CRM is a critical step in the implementation process. You must ensure the data is properly mapped and cleaned before being imported into the new system.
Test your system:
Before rolling out your new Veeva CRM system, it's important to test it thoroughly. This includes testing all the customizations, integrations, and workflows to ensure they are working correctly.
Train your users:
Once your Veeva CRM system is configured and your data has been migrated, you should train your sales reps on how to use the new system effectively. This training should cover everything from logging in to creating records, running reports, and managing pipelines.
Go live:
Once you have tested your system and trained your users, it's time to go live. You should communicate the new system's launch to your sales team and provide ongoing support to help them transition to the new system.
Certainly, the best practices for Veeva CRM implementation can help you optimize sales processes, improve data accuracy, and provide better customer experiences. By following these steps, Veeva users can use the system more effectively and achieve their business goals.
Why do we need a Veeva CRM Implementation roadmap?
A Veeva CRM implementation roadmap is crucial for a successful implementation process. It provides structure, clarity, and direction to the implementation process. The roadmap facilitates effective planning, communication, and risk management, increasing the likelihood of a successful implementation and maximizing the benefits of Veeva CRM for your organization.
Learn more here >>
Trueson – Your Veeva CRM Implementation Consultant
Still need help with implementing and supporting Veeva CRM? Trueson is here for you!
Our Veeva consultants have a significant background in Life Sciences and Healthcare. As Veeva Services Preferred Partner/ Veeva Partner, Trueson provides a wide range of Veeva Consulting services, from Business Administration and Content Management to Integration.
CONTACT US for CRM Implementation Services!
***
Reference:
Veeva CRM Implementation Guide, https://crmhelp.veeva.com/doc/Content/CRM_topics/Getting_Started/Implementation_Guide.htm
Veeva CRM Administration Guide, https://crmhelp.veeva.com/doc/Content/CRM_topics/Administration/Administrator_Guide.htm
Veeva CRM Training, https://www.veeva.com/training/veeva-crm/
Veeva CRM Community, https://community.veeva.com/community/veeva_crm
Veeva CRM Support, https://www.veeva.com/support/veeva-crm-support/