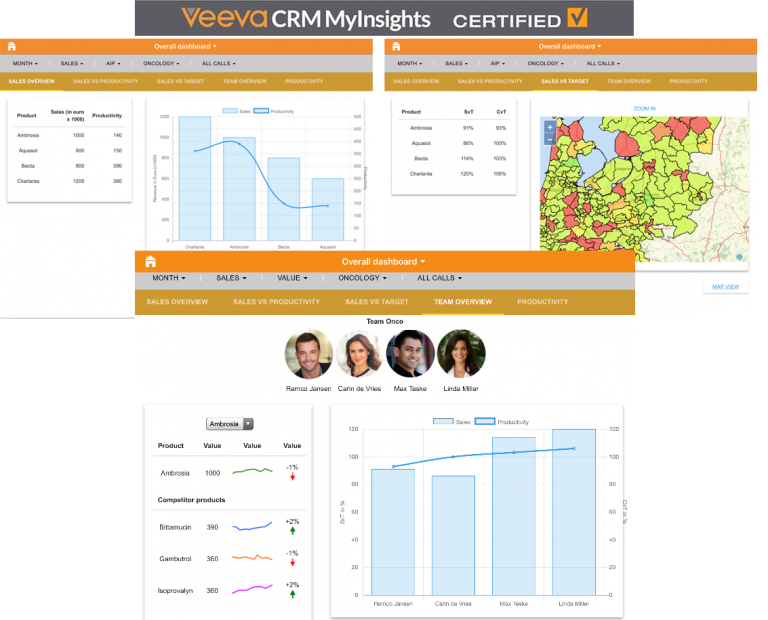 WHAT IS VEEVA CRM MYINSIGHTS?
Veeva CRM MyInsights is an innovative data visualisation capability that provides tailored
real-time actionable insights right within Veeva CRM
, available on Veeva Mobile and online. An exciting way to visualise performance and customer insights, driving focussed behaviour and enabling efficient decision making.​
MyInsights gives you the flexibility to combine whatever information in whatever format, depending on your specific needs and preferences. MyInsights takes Closed Loop Marketing and Commercial Effectiveness to the next level, from enabling the sales team to better perform, to management having better decision-making insights.​
Trueson is Veeva Preferred Services Partner for MyInsights. We develop new and attractive ways of visualising key data and combining insights you didn't have access to before in Veeva CRM. Trueson MyInsights reports are responsive and attractive, add a great deal of visibility and user friendliness. The content of the reports and geographical interface will get your field teams excited! They now have access to highly intuitive reports that combine Calls and Sales data into a single actionable chart or geographical map. Or KAM data and strategies. Or to dashboards with critical information for order taking, saving a lot of time in preparing the face-to-face, and supporting successful negotiation of the order