Solution cycle for Business Administrators to prepare the Cycle, Cycle Plans, Targets, and Goals into Salesforce without having to prepare load files. 
Multichannel Cycle Plans Overview
Multichannel Cycle Plans (MCCP) allow users to view call goals for each target account and product along with the progress toward those goals.

crmhelp.veeva.com
When preparing Cycle Plans in Veeva CRM, assigning Targets and Goals to Sales Reps, Business Administrators establish Multichannel Cycles and often manually prepare load files for assigning Accounts, Channels, Products, and Goals. This complicated process is time-consuming and sensitive to man-made errors. 
What is cycle plan in Veeva
Cycle Plans or Plans of Action are lists of call activity plans that sales reps have to plan ahead before calling the customer.
What is MCCP FastTrack
MCCP FastTrack is an app developed by Trueson, designed to optimize the preparation of Multichannel Cycle Plans in Veeva CRM.
Acknowledging the need for a powerful tool to manage this process faster and easier, Trueson developed MCCP FastTrack – an app integrated into Salesforce.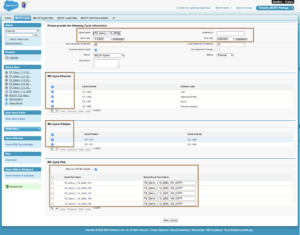 The advantages of Trueson's MCCP FastTrack
Shorten the time to prepare Cycle Plans

 

Simplify the process to set up and clone Cycles and Cycle Plans

 

Mass assign Targets/Goals across all Cycle Plans

 

Minimize the possibility of man-made errors

 

Eliminate preparation of load files

 

Integrate directly into Salesforce, leverage Veeva CRM objects and processes

 

Customize settings and filters based on local business' specific needs

 

Have Trueson consultants advise on Multichannel Planning and Execution

 
MCCP FastTrack has successfully passed Salesforce's Security Review and is available on Salesforce AppExchange. 
FREE Veeva MCCP demo HERE https://trueson.com/en/products/mccp-fasttrack/