Over the past year, Salesforce has upgraded the Salesforce Marketing Cloud (hereby SFMC) with plenty of new features.
Let's check out some great ones that will improve how you are using SFMC:
Einstein Copy Insights
Users now can get more copy insights by evaluating subject line language. Thanks to Einstein Copy Insights, users will receive an alert if the language has any possibility of bias. This testing feature gives users a chance to rethink and make better decisions when writing emails and helps to ensure ethical marketing.
Einstein Content Testing
Testing content is an essential step in marketing campaigns, and it should not block your progress. With Einstein Content Testing, users can test and see the real-time results in Content Builder.
Automatic Fallback
Now users don't have to create forms with CloudPages Smart Capture or another tool if something doesn't render in email clients as expected. Automatic Fallback allows users to directly link a call-to-action button to a form on an Interactive Email CloudPage destination.
Salesforce marketing cloud interactive email allows marketers to receive subscriber information like profile data, product reviews, and sales leads directly from embedded forms in an email
Salesforce Marketing Cloud Smart Capture
Smart Capture is a tool in Email Studio you use to create lead capture forms to include in your landing pages.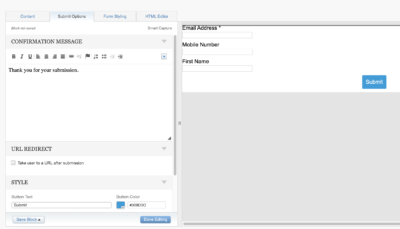 The Smart Capture block in CloudPages currently lets users update existing data extensions with primary key fields.
Compliance Settings
Instead of reaching out to Salesforce support, admins now can enable or disable Profile Link Check, Physical Address Check, and Unsubscribe Link Check by business unit from Email Studio Setup. This enhancement helps users facilitate email campaigns while complying with CAN-SPAM, GDPR, or other local regulations.
At Trueson, we have a professional team of certified SFMC consultants and developers. We will help you with:
Data management

Marketing Cloud customized development and configurations, integration (SFMC & Veeva integration)

HTML Email and Email Template to respond to different email clients and multi-devices

Automation process Design, Implementation, and Optimisation to suit your business model

Devise multi-channel strategies, including dynamic content/personalization, in-depth customer segmentation, and customer journeys
Marketing campaign optimization with insightful metrics and reports on Marketing Cloud

Test, test & test for the best practice in use cases
To learn more about our Salesforce Consulting Services >> here
Contact us today for an initial consultation!