Cost Savings And Business Benefits  Enabled By Marketing Cloud
**This article is compiled based on Forrester's research
The primary objective of this investigation is to offer readers a guide to appraise the prospective financial influence of Salesforce Marketing Cloud on their businesses.
WHAT IS SALESFORCE MARKETING CLOUD (SFMC)?
SFMC offers a suite of unified applications, including
Customer Data Platform
Personalization
Engagement
Account Engagement
Intelligence
Loyalty Management.
These tools enable organizations to enhance customer experiences, drive revenue growth, reduce costs, and deliver value to customers efficiently.
READ MORE ABOUT TRUESON SFMC SERVICES >>
THE TOTAL ECONOMIC IMPACT OF SALESFORCE MARKETING CLOUD
In order to enhance understanding of the advantages, costs, and risks associated with this investment, Forrester conducted interviews with five individuals who have experience in Marketing Cloud. For the purpose of this research, Forrester compiled and consolidated the insights from these interviews into a composite organization, representing a global company with $500 million in annual revenues and a digital marketing budget of $20 million.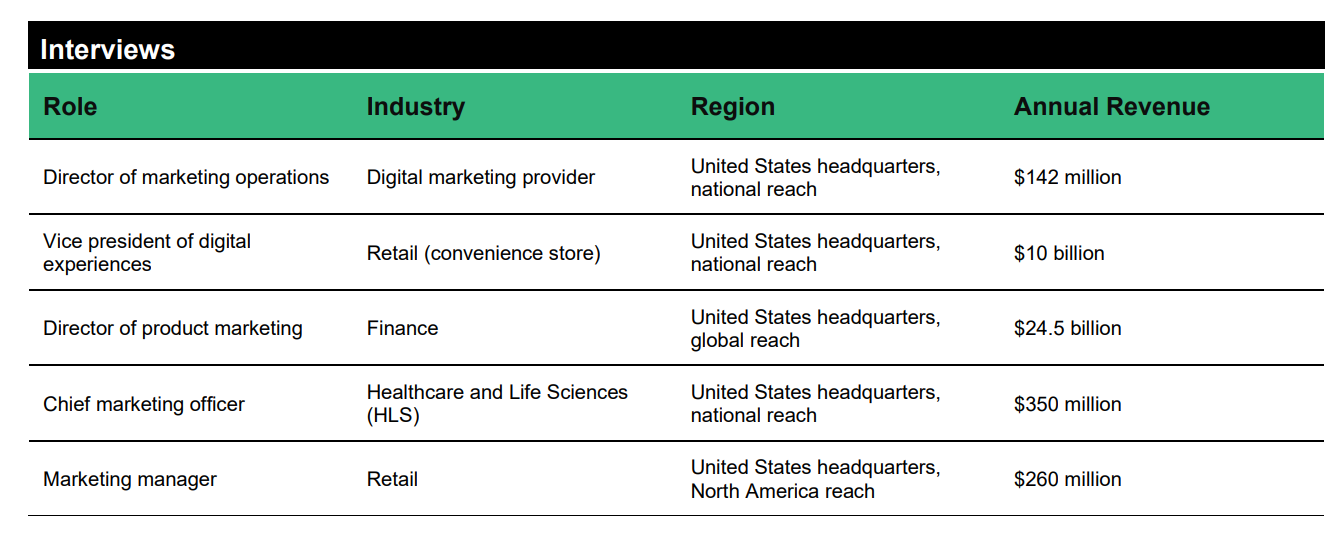 KEY FINDINGS AFTER USING SALESFORCE MARKETING CLOUD PRODUCTS
Quantified benefits.
The composite organization can expect to realize quantified benefits over a three-year period, adjusted for risk and expressed as present value (PV). These benefits include:
Improved relevance in marketing efforts leads to a 50% increase in customer engagement.
Enhanced personalization in email campaigns leads to significant outcomes for the composite organization, including a 250% surge in email subscribers, a 60% boost in email conversion rate (CR), and a 35% increase in average order value (AOV).
Enhanced digital experiences result in a 60% increase in website visitors converting to a purchase and a 35% increase in AOV.
The composite organization achieves a 10% reduction in media waste through the automation of data preparation and optimization of ad performance.
A notable 60% reduction in the time needed for creating and managing marketing campaigns, as well as an impressive 90% decrease in the time spent on campaign reporting by marketers.
Unquantified benefits.
While not measured in this study, there are additional benefits that contribute value to the composite organization. These unquantified benefits basically include:
Positive impacts on employee experience.
Promotes a growth mindset and encourages a focus on innovation
Benefits from extensive support and enablement provided by Salesforce and its network of partners.
Costs of using Salesforce Marketing CLoud.
Risk-adjusted present value (PV) costs over a three-year period, which consist of:
Salesforce subscription, fees, and consulting expenses totaling $2.3 million. These costs encompass the Marketing Cloud subscription, add-on product licenses, and professional services obtained from Salesforce.
Deployment and change management costs amounting to $185,000. This includes internal labor required for implementing Salesforce, involving efforts from both business and technical resources. Additionally, costs associated with training and change management activities contribute to this category.
Ongoing administration expenses totaling $246,000 over three years. The composite organization designates one Salesforce administrator responsible for internal product management and maintenance.
Results.
Based on representative interviews and financial analysis, the composite organization achieves benefits totaling $10.78 million over a three-year period, compared to costs amounting to $2.70 million. This results in a net present value (NPV) of $8.08 million and an impressive return on investment (ROI) of 299%.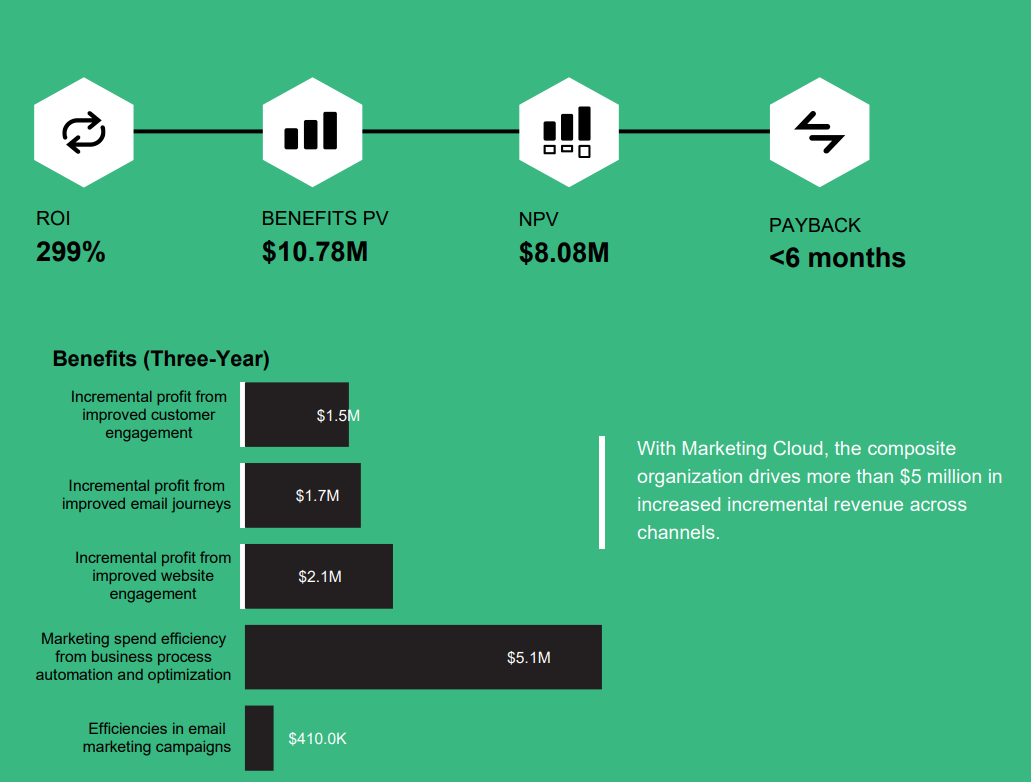 "Marketing Cloud is driving better engagement rates, higher email open rates, and better click-through rates with an app push. Ultimately, we see better conversion, fewer unsubscribes, more loyalty, and [higher] frequency." — President of digital experiences, retail
** Please find out more details about this research at reference
https://www.salesforce.com/content/dam/web/en_us/www/documents/studies/the-total-economic-impact-of-salesforce-marketing-cloud-2023.pdf
CONCLUSION
In summary, this study offers valuable insights into the potential financial outcomes of implementing Salesforce Marketing Cloud for organizations. The research findings highlight significant benefits, such as increased customer engagement, improved email personalization, enhanced digital experiences, reduced media waste, time savings, and positive impacts on employee experience. These advantages, coupled with the support from Salesforce and its partner ecosystem, contribute to the overall value proposition of Marketing Cloud.
Organizations considering the adoption of Salesforce Marketing Cloud can use the framework provided in this study to assess the potential financial impact on their own operations. The findings underscore the value and effectiveness of leveraging Marketing Cloud as a strategic tool to drive growth, enhance customer experiences, and achieve significant returns on investment
Overall, this research provides readers with a comprehensive understanding of the financial implications of Salesforce Marketing Cloud and underscores its potential to deliver tangible and quantifiable benefits for organizations across various industries.
PLEASE CONTACT OUR CONSULTANT TO LEARN MORE ABOUT SALESFORCE MARKETING CLOUD