Trueson APAC was founded in 2019 by Mr. Son Truong. As the first branch of Trueson in the APAC region, Trueson APAC plays an essential role in expanding the company's business and ensuring its service quality worldwide. Within less than two years, Trueson APAC has grown significantly. "It's all thanks to our people" – CEO Son Truong said.  
The team
Despite the geographical distance and different time zone, CEO Son Truong always maintains the communication flows, ensures consistency, unification, and motivates staff with empathetic leadership. Accordingly, Trueson has grown from meager personnel into a fully-equipped SME with more than 10 dedicated members.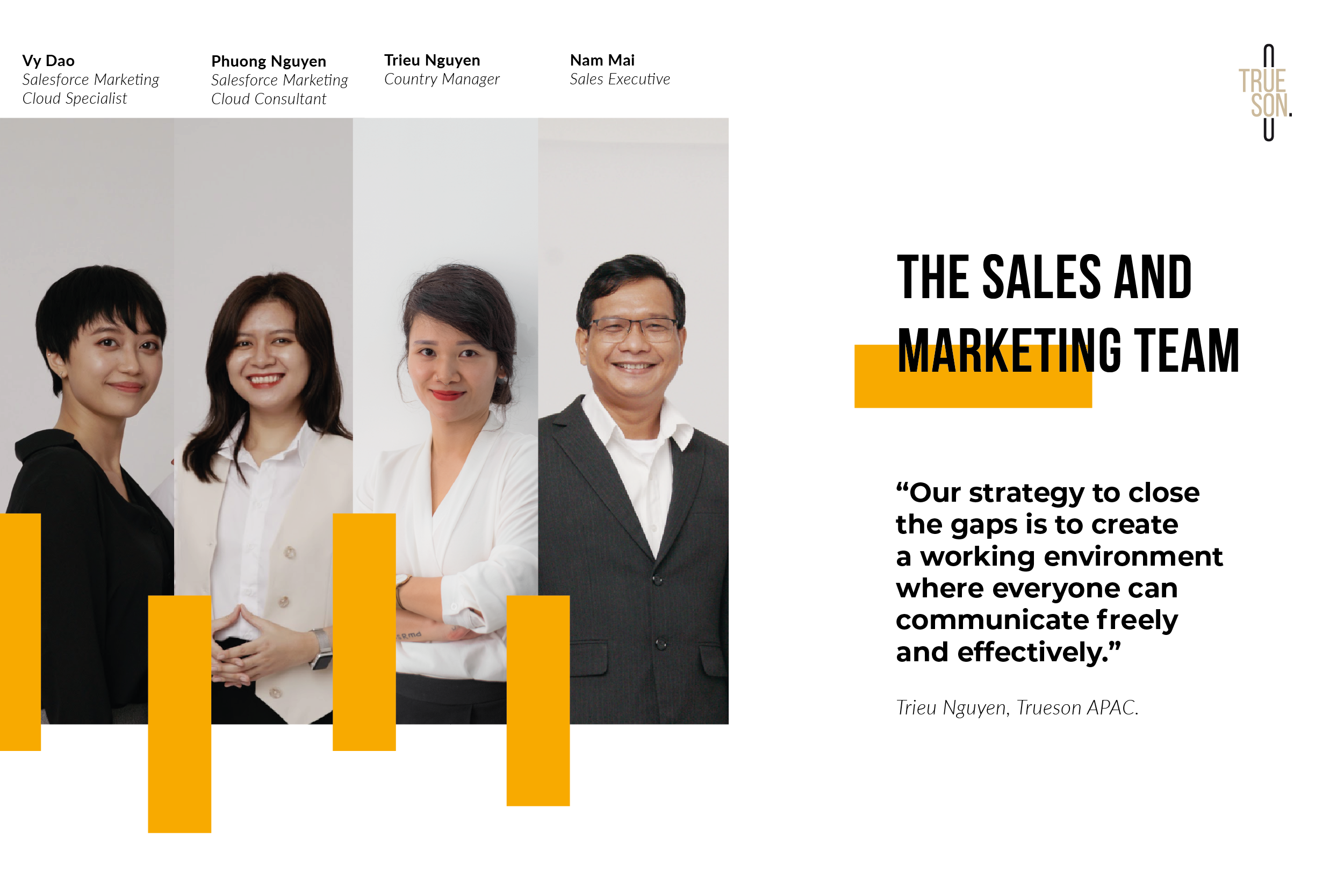 To work in harmony with each other and with the multicultural team from another side of the globe, communication and project management skills are the keys. "It's not easy to coordinate people in different regions. Our strategy to close the gaps is to create a working environment where everyone can communicate freely and effectively. Making the staff feel appreciated and recognized will build up their trust in the management and the company's vision. Consequently, we now have a team working hard for our mutual goals", according to Ms. Trieu Nguyen, Trueson APAC Operations and Country Manager.  
Trueson APAC's customer portfolio is diverse from Europe, America, to Asia. Our team is a combination of not only young talents from Vietnam, but also well-educated and experienced seniors from North America, the EU, and Australia. As an autonomous and self-organized team, our APAC Lead of Technical Solutions – Mr. Johannes Pham proudly said: "To achieve customers' satisfaction, we support closely the end-users to understand their business cases and analyze their specific needs rather than waiting for orders. Our goal is to deliver the highest value to our clients within a short time frame".  
The mission of adding more value to the customers' business is a challenge to any team member. It is hard, but it is a great motivation for personal and professional development. Mr. Dung Vu – Senior Developer, one of the three first members of Trueson APAC shares: "I was new to the pharmaceutical industry when I first joined Trueson. It was hard to understand what customers want and to provide them with the most appropriate solutions for their problems. To overcome this obstacle, I have been continuously widened my knowledge while working at customer's sites, listening attentively to the counterparts and asking them all related questions". Dung has now been a valuable asset of the company – His story represents our working spirit: Where there is a will, there is a way.  
The faith in Trueson's vision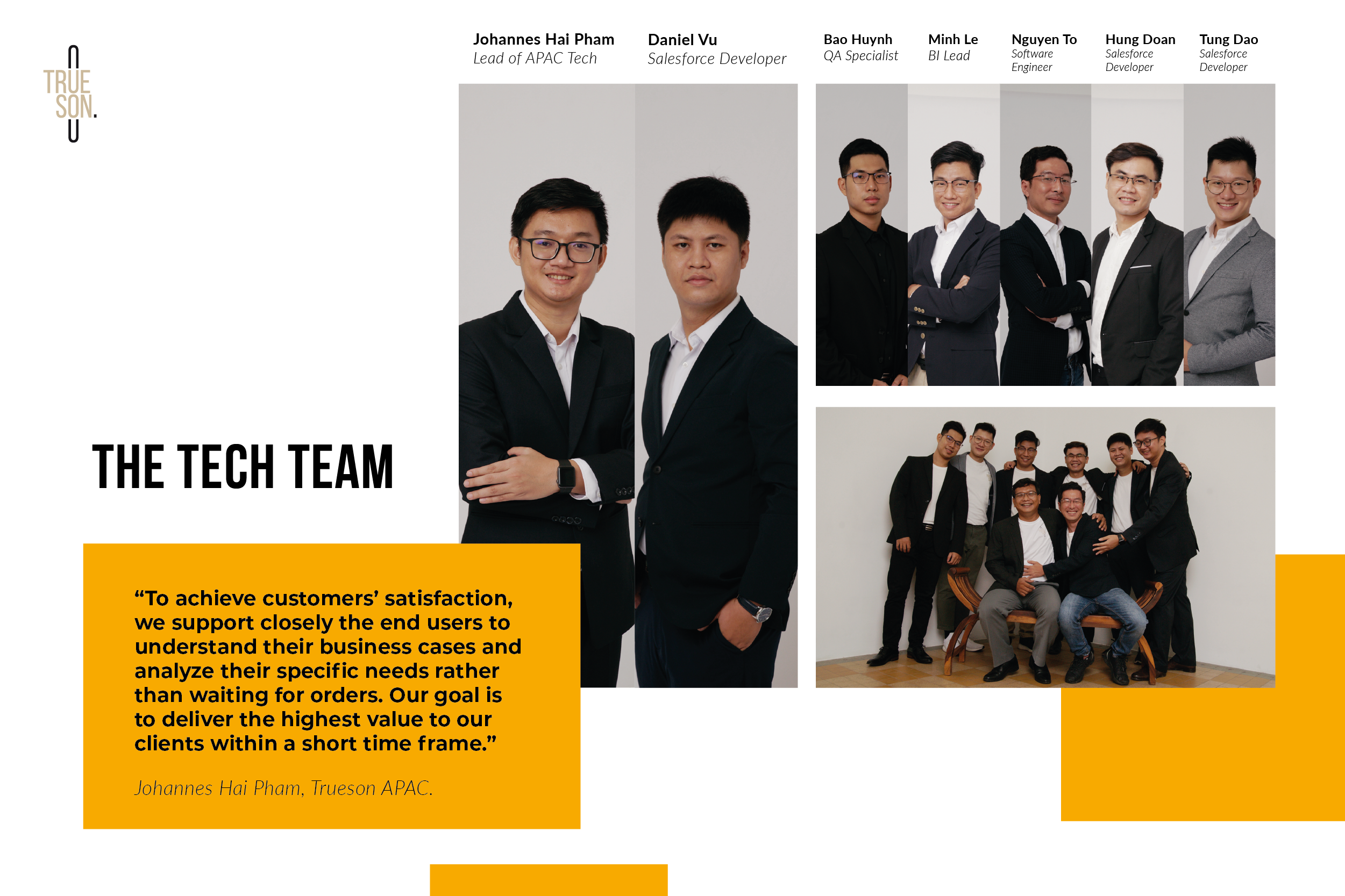 Trueson strives to be a true and devoted business partner to any clients from any industry, not just the pharma industry, by providing services in Data Management, Content Creation, Project Management, and specific business insights. At Trueson, each employee is an asset to the company. In that CEO Son Truong strongly believes the core value of a company is its people.  
Trueson-ers are highly encouraged to widen their knowledge and skillsets. We ensure that our team members always have the proper opportunities for professional development, creation, and devotion to their work and their career. 
By so doing, Trueson succeeds in maintaining professionalism, quality of work, and customer engagement in every activity, and every industry in which we are present and serve. 
Together, at Trueson APAC, we build a healthy working environment and ultimately satisfy our customers.  
VISIT OUR WEBSITE to learn more about Trueson, products, and services: www.trueson.com